Demand Control: ALC-expert
Network-Enabled Peak Load Optimization & Energy Management System
Equipped with intelligent monitoring technology and state-of-the-art microelectronics, the ALC-expert is designed to measure and control power demand in real-time. Based on live energy data, priorities, and user defined parameters, connected loads are curtailed to ensure that kW demand stays below the desired threshold. Dynamic Trending is performed with instantaneous load trending calculations to establish necessary correction factors and optimize the load within the preset target values of the imposed utility interval. Expensive demand peaks are prevented without jeopardizing building operations.
Compact system architecture allows for commercial and industrial applications. The ALC-expert is certified for easy installation in existing or new facilities.
Easy to integrate in facilities with existing Building Management System (BMS/EMS) technology via open communication protocols (Ethernet, LON, Modbus).
Modular construction with many options for up to 128 load groups and more than 512 digital and analog inputs/outputs for measuring and controlling building variables through intelligent field bus communication.
Network-enabled (Ethernet TCP-IP) hardware and software for easy integration of systems into new and existing IT infrastructure.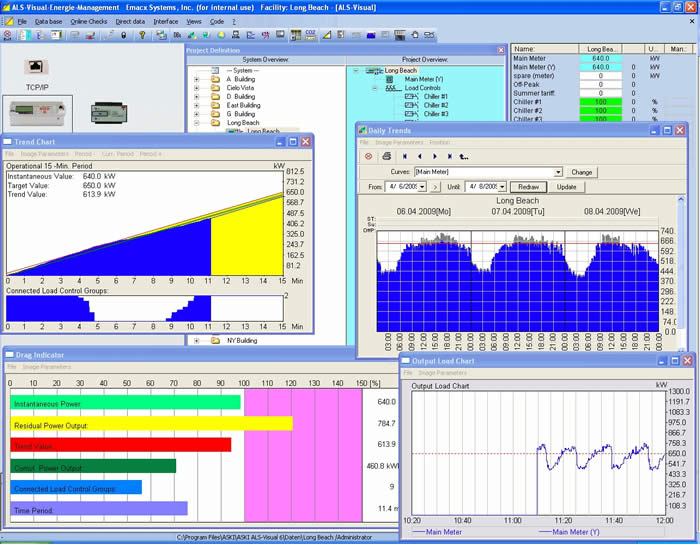 The Emacx ALC-visual energy management software can be easily installed on any Windows-based PC. The data transfer connection to the Emacx Automated Load Controller is established via Ethernet, modem, or direct serial connection. ALC-visual is user friendly and, with only a few basic configurations such as IP address and port number, the system is ready to go online.
Application / Functions
Online configuration
Graphical displays of load curves
Real-time display of energy usage
Record demand and consumption data
Energy information database
Network-enabled
Export of all Interval Data