EMI Systems: Lighting Power Reduction
PRC3000 Lighting Power Reduction Panel
In most facilities, fluorescent lighting accounts for 40% to 80% of the electric bill. One way to reduce that cost is simply to turn the lights off. Building management systems save money by eliminating light. Now there's a way to keep the lights on and save money at the same time.
Saves Energy without Leaving You in the Dark
The PRC3000 Lighting Power Reduction Panel is an energy saving device for use with new or existing fluorescent lighting systems. It utilizes a unique, patent-pending, current limiting approach while other devices reduce electrical flow by "topping" sine waves. Conditioning the incoming power wave in this way reduces electrical consumption yet maintains peak voltage. The graph below (from left to right) illustrates how peak voltage (red line) remains constant as power (blue line) is dropped down to the desired percent savings level.
Key Product Features
Saves up to 15% with less than 9% foot-candle loss at the floor
Can be used as a Stand-Alone Energy Management System
Interfaces with other systems via external dry contact inputs
Additional Potential Benefits - Savings
Reduces ballast operating temperatures - Increases ballast and lamp life
Reduces heat generated by fixture(s) - Decreases cooling load on A/C equipment
Recognized by utilities for incentives - Helps to qualify a facility as "GREEN"
Typical Return On Investment of 2 years – Drops even lower with utility incentives
Programming and Flexibility
Each phase may be linked to individual programs or one common program
Programs may be executed via internal schedule and/or external dry contact inputs
Safety
Housed in NEMA1 enclosure
UL and cUL listed
Designed to operate continuously under full load at up to 150° F
Installs Quickly and Easily
Uses existing ballasts (no special ballasts required)
Mounts next to lighting panel and requires no maintenance
The PRC3000 works with T5, T8, or T12 ballasts. Testing shows that the greatest savings with the least lumen loss are achieved when the PRC3000 is used with single voltage T8 ballasts.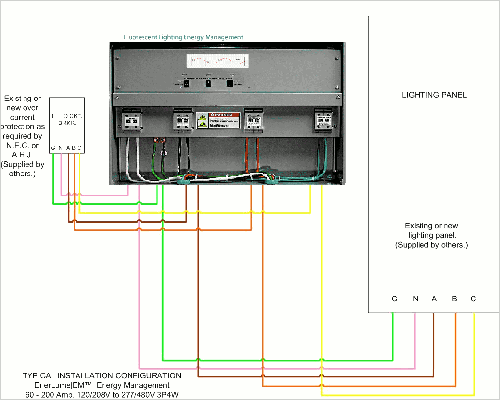 Installation is accomplished by "splicing" the PRC3000 in between the supply feeder and the lighting panel. The PRC3000 can then condition the power for all of the fluorescent lights controlled by the lighting panel on one or all phases. It is suitable for three-phase or single-phase systems as well as generators.
The PRC3000 connects to a PC via a serial cable and is programmed using the included Windows-based software that can be downloaded on any PC containing Windows 98 to Windows Vista.
Why put up with increasing electric rates? The PRC3000 is an affordable solution that can reduce your lighting costs without impacting your daily operations. Take control of your lighting today and save well into tomorrow.